Thomasville Office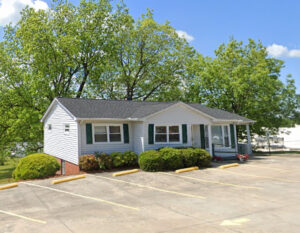 Our easy-to-access Thomasville office is located off of I-85 and  NC-Hwy 109 on Cloniger Drive in Thomasville.  Here, we keep between four to eight agents to serve our client's needs.
About Thomasville
Price Realty in Thomasville is located at a historic place in the Piedmont Triad area. Established in 1852 in Davidson County, North Carolina, the town slowly rose up around the local railway station and was named for its founder, John Warwick Thomas. Today, Thomasville is still home to the state's oldest active railroad depot.
Thomasville's most notable landmark is "The Big Chair," leading to its nickname as "Chair Town" or "Chair City" after the 30-foot replica of a Duncan Phyfe armchair. Like its neighbors High Point and Lexington, Thomasville is famous for its contributions to the furniture industry, particularly cabinetry manufacturing, and receives considerable recognition today for being a trade destination for artisan furniture. The city also has a long history of substantial influence in the textile industry.
Our community's residents regularly play a major role in area activities such as the world-famous Lexington Barbecue Festival held in neighboring Lexington, NC. With a long history of making authentic North Carolina barbeque, our citizens are proud to contribute each year to the exceptional local cuisine.
Thomasville
12 Cloniger Drive, Thomasville, NC 27360
Phone: (336) 474-8320 | Fax: (336) 474-7717
Thomasville Homes for Sale – Thomasville Houses for Sale – Thomasville Realtor