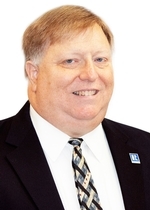 336-688-6596
(336) 812-3163 fax

[email protected]
1220 North Main Street
High Point NC, 27262
Receive Email Alerts from Me
 Do unto others as you would have them do unto you

Steve developed an interest in real estate when he was in college and opted to take the North Carolina Real Estate Course as an elective. Passing this course allowed him to take the state's licensing exam, which he did. He passed and later went on to take his broker's exam and receive his license in 1995. Ever since, he's been serving clients well by ensuring that they have a good experience and have the professional assistance they need to succeed in their real estate transactions.
Steve's real estate experience has included residential sales, commercial sales, and property management. Along the way, he has developed strong relationships with many agents and managers in the area and has worked with some for over 20 years. Because of this, Steve has outstanding knowledge of the local market and is able to excel in his level of service to clients.
In addition to real estate, Steve's interests include the great outdoors. Ever since he was a kid in the Boy Scouts he has enjoyed camping, hiking and canoeing. To this day, hunting and fishing remain two of his favorite pastimes.
Affiliations
Member of High Point Board of Realtors
Eagle Scout from Troop One in High Point
Education
Bachelor of Science Biology, Appalachian State University
Bachelor of Arts Chemistry, Appalachian State University
Wingate Andrews High School, Class of 1983
You know searching for the home, land, investment property or commercial property can be a lot of work, if you would like some help, please give me a call at 336-688-6596.  I look forward to working with you.

I represent both buyers looking to purchase properties and sellers that are looking to sale their properties.  If you would like me to market your properties please call me at 336-688-6596.

Member of High Point Regional Assosciation of REALTORS@

Member of RCA-REALTOR@ Commercial Alliance

Member North Carolina Association of REALTORS@

Membero of National Assoication of REALTORS@

Served on Trebic